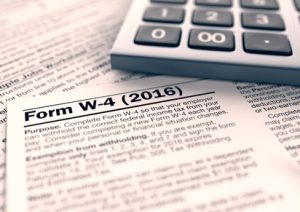 Question: Can an employee submit a new W-4 at any time?
Answer: Yes, an employee may submit a new W-4 anytime they have changes. Often, they'll submit a new form when they know they'll be changing exemptions, adjustments, deductions, or credits on their return.
For example, an employee may want to increase their withholding by decreasing the number of dependents they claim. Or they might want to add dependents to decrease the amount withheld. Life events such as marriage, divorce, and childbirth are common reasons to update a W-4, but employees can generally change their withholding allowances at any time and for any reason.
According to the IRS, employees who are making changes due to a divorce (if they've been claiming married status) or for any event that decreases the number of withholding allowances they can claim should submit a new W-4 within 10 days.
After a W-4 is received, the new withholding amount should be put into effect no later than the start of the first payroll period ending on or after the 30th day from when the employee submitted the replacement Form W-4.
Should you have any additional questions, please contact CyQuest today!
For questions or a free HR Assessment, call us at 404-761-6699 or fill out a contact form and we will follow up with you.
We provide top to bottom HR Consulting, as well as, Government Contracting training and education.